Huge thanks go to Jim and Gary Sutton for undertaking their first marathon ever in October 2013 when they both successfully completed the Dublin Marathon and raised a whopping €1,700 in the process.
Jim and Gary wanted to give something back to the hospital following the excellent care wife and mother, Agnes received at St Mary's ward in her final weeks. Making this decision gave them both a positive focus in the months that followed her passing. They committed to fund raise for the hospital by undertaking the massive challenge of running a a marathon. Jim, an avid runner, has clocked up many distances but never a marathon.
What a magnificent achievement for them both and our sincere thanks for the moneys raised.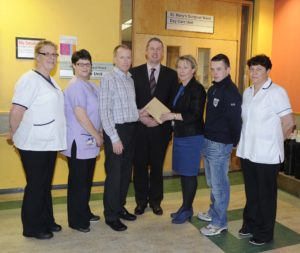 Pictured (L-R) Nurse Laura Furlong; Ann Kenny, Care Assistant; Jim Sutton; Niall Reck, Friends of Wexford General Hospital; Lily Byrnes, General Manager Wexford General Hospital; Gary Sutton; Nurse Eileen O'Sullivan