Friends Contribute €242,000 to St Gabriel's Paediatric Ward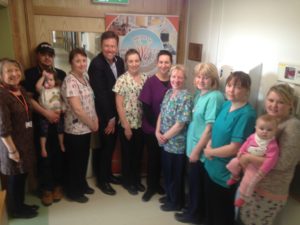 Thanks to a generous bequest from Mr Herbert Amon, Friends of Wexford General Hospital have contributed €242,514 towards the extensive refurbishment of St Gabriel's Paediatric Ward. With this funding the children's ward is now a vibrant, fully equipped, modern, purpose built ward for its new occupants. Read More Here
Vital Equipment for Theatre & ICU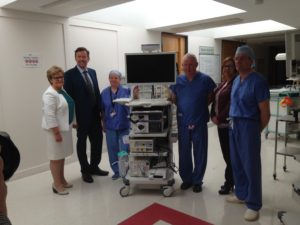 Friends of Wexford General Hospital on behalf of the people of Co. Wexford has purchased much needed equipment for use in Theatre and ICU at Wexford General Hospital.
The purchase of the Olympus Endoscopy Stacking System replaces an obsolete unit that could no longer be serviced or repaired.  The new system enables physicians at the hospital to have mobile Endoscopy imaging both in theatre and I.C.U.  This is particularly helpful in situations where a patient may be bleeding and requires medical intervention under general anaesthesia. It also enables the anaesthetic team to provide emergency endoscopic interventions in theatre and I.C.U. Read More
Emergency Department Improvements
Following the recommendations of a project team formed at Wexford Gerneal Hospital, Friends of Wexford General Hospital donated €25,000 to the Emergency Department. The aim of the project team was to improve patient flow through the Emergency Department.
The changes have resulted in meeting over 80% of admission times, directly improving patient care. This means that patients wait less time to be seen and treated or discharged. Read More
Friends contribute to Colorectal Screening at Wexford General Hospital.
The National Cancer Control Programme has recently accredited Wexford General Hospital as a screening centre for the colorectal cancer screening programme which is to start in 2013.  The facilities and standards required to facilitate this programme has been supported by the Friends of Wexford General Hospital donating approximately €20,000 to the screening programme. Read More
Friends purchase vital equipment for infant care and maternity units
Friends of Wexford General Hospital on behalf of the people of Co. Wexford has purchased much needed equipment for infant care and maternity units at Wexford General Hospital. A new infant ventilator purchased to replace a 15 year old decommissioned ventilator, is now fully operational at the hospital. A second infant ventilator received an upgrade as a fully functioning back- up to the primary ventilator.  The ventilators provide high frequency ventilation to neonates and premature babies at a total cost of €37,651. Read more