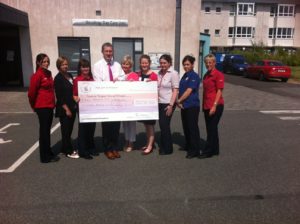 Photographed at the cheque handover (L-R) is Lisa O Connor ( Tesco), Deirdre Keogh (Friends), Siobhan Kelly (Tesco), Niall Reck ( Friends), Patricia Hackett (WGH), Dr Paula Calvert (WGH), Linda Conway (Tesco), Michelle Codd (Tesco) and Vera Meyler ( Tesco)
A huge well done goes to the fundraising team from TESCO Distillery Road, Wexford. The team organised a number of events including a bottle sale, cake sale along with running the Flora Mini Marathon. Friends collection buckets were placed around the TESCO checkout area in the weeks leading to the mini marathon so that shoppers had the opportunity to donate to their fund raising efforts.
On Thursday 24th July, a cheque for €3,216 was presented to the Friends of Wexford General Hospital for the Oncology Day Care Unit. Our thanks to the big team effort and everyone involved in organising the fund raising events for Wexford General Hospital.