FREE Talk- 7pm Tuesday 9th Feb at WGH on Childhood & Adolescent Mental Well Being.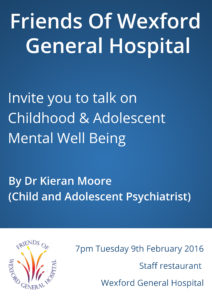 At any one time 20% of children and adolescents have a psychological issue. This covers a vast spectrum of issues from being in a bad mood because they had a fight with a friend to extremes such as suicidal intentions. Positive mental health can be encouraged by following some simple and basic steps:
• Support good family relationships
• Having good social relationships- physically being with others
• Good diet
• Exercise
• Days away from alcohol
• Time away from technology- phones, tablets, pcs
Out of the 20% experiencing psychological issues only 8% of these may need to seek further help. In the latest of the series of talks supported by Friends of Wexford General Hospital, Dr Kieran Moore will highlight the more serious signs to watch out for and how to differentiate between a normal bad mood and something that might be more serious.
All are welcome to attend Friends Of Wexford General Hospital's FREE talk on Childhood & Adolescent Mental Well Being at 7pm, Tuesday 9th February in the staff room at Wexford General Hospital.