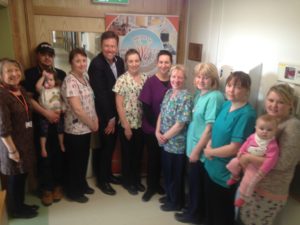 Thanks to a generous bequest from Mr Herbert Amon, Friends of Wexford General Hospital have contributed €242,514 towards the extensive refurbishment of St Gabriel's Paediatric Ward.
With this funding the children's ward is now a vibrant, fully equipped, modern, purpose built ward for its new occupants.
With our thanks to Mr. Amon, Friends of Wexford General Hospital were able to provide essential functional equipment for the ward. This included more modern bed head trunking complete with medical gases and services. Medical gases will now be available at each bed and will be piped through the wards, no longer being supplied on separate appliances or based on cylinder provision.  Extra electrical works enables each patient to control their own lighting at their bed.
Additional decorative finishes were also completed with part contribution to the installation of suspended ceilings, floor replacement and a paint refresh throughout the ward making it bright and modern. Alteration to the nurse base, clean utilities and kitchen areas will also enhance staff, family and patient comforts.
Friends of Wexford General Hospital would like to sincerely thank Mr. Amon and his family for his generous contribution to the hospital, making this important upgrade possible.