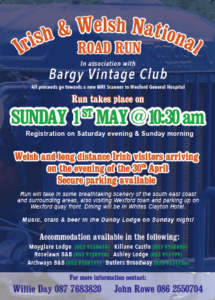 The Irish & Welsh National Road Run in association with Bargy Vintage Club  takes place this Sunday May 1st in Co Wexford culminating on Wexford Quay.
The run is a joint initiative between Wales and Ireland alternating between the two countries each year. This year is the third time this event will be held in Ireland and more specificially, Co Wexford.  We are delighted to hear that it is getting bigger and better every year!
The event will be home to vintage tractors from all over Ireland, England and Wales. Expect to see some very unusual and very old tractor models with some dating back to the early 1900's.
Take a step back in time and join the Welsh and Irish Vintage tractor run this Sunday May 1st, on Wexford Quay from 1pm.
All proceeds from this years tractor run will be donated to Friends of Wexford General Hospital and will go towards the purchase of a MRI scanner for the local community.
Our thanks go to Bargy Vintage Tractors for fund raising for Wexford General Hospital, we wish you every success with the event!