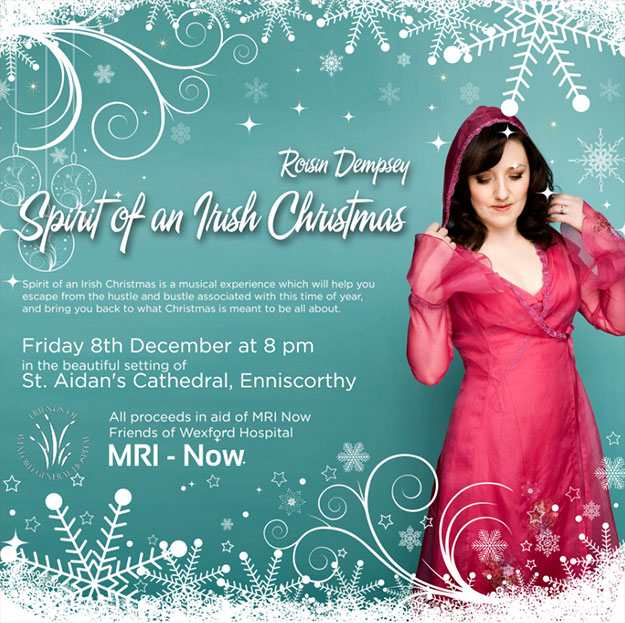 Spirit of an Irish Christmas is a musical experience which will help you escape from the hustle and bustle associated with this time of year, and bring you back to what Christmas is meant to be all about.
Friday 8th December at 8pm in the beautiful setting of St. Aidan's Cathedral, Enniscorthy
All proceeds in aid of MRI Now Friends of Wexford Hospital
The programme is a beautiful selection of Christmas music – some traditional, and some lesser known – all given a new lease of life through Celtic influenced arrangements performed by Roisin's band of celebrated Irish musicians. The Spirit of an Irish Christmas band's collective touring and recording credits include Kelly Clarkson, Brian Adams, Riverdance, Celtic Woman, Moving Hearts, Tommy Fleming, Stockton's Wing, The X Factor, Good Morning America, The Voice of Ireland, Dancing with the Stars.
Nick Bailey – Percussion, David Hayes – Keys, Declan Masterson – Pipes, Bouzouki, Whistles Colm O Tiarnaigh – Fiddle, Viola, Fergal O Murchú – Box Accordian
Valda Chamber Choir are an award winning vocal ensemble based in Wexford. They perform annually as part of the Wexford Festival Opera Fringe programme, and have just returned from performing in Tomar, Portugal.