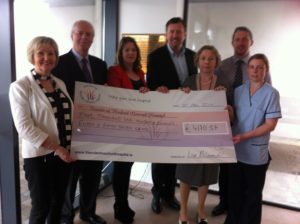 Photographed at the cheque handover (L-R) Patricia Hackett (WGH), Colm Caulfield, (Friends), Lisa McLoughlin, Ciaran Sheridan(Friends), Lily Byrnes (WGH), Niall Reck (Friends) Jenny Power (WGH).
A huge well done to Lisa McLoughlin, New Ross. Lisa raised over €4,000 for the Oncology Day Care Unit at Wexford General Hospital. She created the "One World" 2014 calendar last year for sale in outlets throughout Co.Wexford.

When her father passed away in 2013 she wanted to do something positive in his memory. Lisa, an amateur photographer, took all of the photos for the calendar. Developing the calendar was big undertaking, involving lots of different elements from creating the theme, inviting people for photography, getting support from retailers to stock it and people to buy it. She is delighted to say that the support around the county was overwhelming.

Our thanks to Lisa for all her hard work in making this happen for the Oncology Day Care Unit. All proceeds have been shared equally between Irish Cancer Society and Friends of Wexford General Hospital